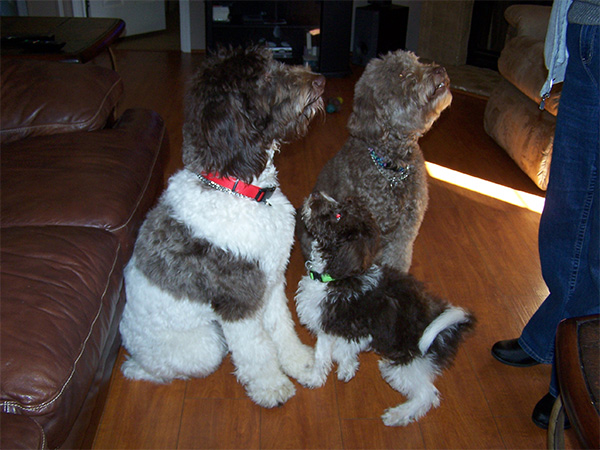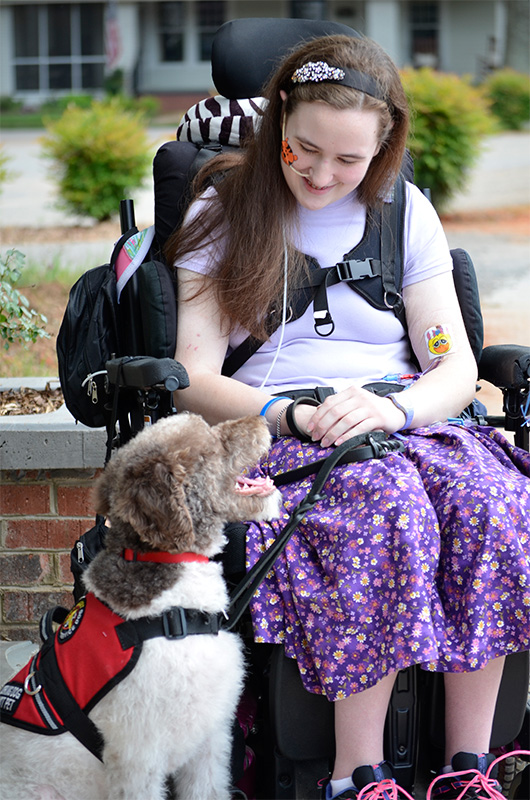 We specialize in rare dark chocolate, parti labradoodles, and specialized dog training.
Watch this amazing video of one of our labradoodles that went to a very special young girl who just wanted a dog, but got much much more!!!!!!
While we primarily breed some of the highest quality labradoodles, we also take much pride being American Kennel Club of america (AKC) Canine Good Citizen (CGC) certified trainers and evaluators.
We do diabetic alert imprinting on puppies. This mean we can take your diabetic (low or high sugar) scent and imprint this on our puppies from day 2. This imprinted scent begins the process of preparing your puppy for future training as your diabetic alert dog. Contact us for more details. (see videos below).
We are also certified dog bite prevention trainers. B.I.T.E.S. (Basic Instruction Training Ensuring Safety) training is designed for businesses that work out and around homes and in the public meter readers, postal workers, public safety officers, service techs. etc. where dog bites are extremely common.
Having been a K9 dog handler with a search and rescue team in Indiana as well as training with the Federal Emergency Management Agency (FEMA)  K9 team, we have had the great opportunity to work with and train using some very unique training methods. We have learned a variety of training methods and attended numerous seminars. We have trained dogs in wilderness searches, urban emergency rescue, and cadavor search and rescue. This has given us the chance to work with many different handlers, dog breeds, highly recognized trainers, and to learn lots about dog behavior and training methods. We have also trained many of our own companions over the years.
AKC's Canine Good Citizen® (CGC) program. Started in 1989, the CGC program is designed to reward dogs who have good manners at home and in the community. The Canine Good Citizen program is a two-part program that stresses responsible pet ownership for owners and basic good manners for dogs. All dogs who pass the 10-step CGC test may receive a certificate from the American Kennel Club.
Many dog owners choose Canine Good Citizen training as the first step in training their dogs. The Canine Good Citizen program lays the foundation for other AKC activities such as obedience, agility, tracking, and performance events. As you work with your dog to teach the CGC skills, you'll discover the many benefits and joys of training your dog. Often CGC certified dogs are permitted to go to hospitals, nursing homes and some other public places if requested. This training will also enhance the bond between you and your dog. Dogs who have a solid obedience education are a joy to live with; they respond well to household routines, have good manners in the presence of people and other dogs, and fully enjoy the company of the owner who took the time to provide training, intellectual stimulation, and a high quality life. We sincerely hope that CGC will only be a beginning for you and your dog and that after passing the CGC test, you'll continue training in obedience, therapy dog training, other work with your dog, or performance events.
AKC's Canine Good Citizen® (CGC) program is one of the most rapidly growing programs in the American Kennel Club. There are many exciting applications of this wonderful, entry level training that goes beyond the testing and certifying of dogs.
Please contact us for more information on our next special litters.
We can also work with you on special training like finding keys or numerous items including children, bugs, rodents, etc. You can also learn the fundamentals of search and rescue to begin working with a local search and rescue club.
We offer individual training at your home or local training site, as well as group trainings and evaluations. We love doing this training with labradoodles especially because of their high intelligence, ease of training, eager-to-please personalities, and gentle temperament. They are naturals for this kind of training.
Please feel free to contact us and inquire more about this training!